InteliSTAR

Making Phaluhm closer

Name
InteliSTAR
Type
Transportation
Origin
Phaluhm Phoueck
Founded
June 8th 1902
Owner(s)
Department of Transportation
InteliSTAR Ferries is a ferry company that serves costal cities in Phaluhm Phoueck. Intelistar is also supposed to link Nazahezan, Nuybuey and Kambular to Rettato and Magazena where road or rail transportation is not possible. InteliSTAR also operates car and tourist ferries.
The main InteliSTAR routes go from Dauham Sammar Hazaham to other cities and towns.
DSH - Javahezam 
DSH - Mahazam
DSH - Nuevert
DSH - Kamiba
DSH - Kota Kambular
DSH - San Sabyleo
DSH - Klas Bay
DSH - Westal City
DSH  - Wikias  via Nallek and Gosal
The secondary routes start from other major cities to other cities and towns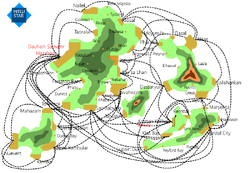 Ad blocker interference detected!
Wikia is a free-to-use site that makes money from advertising. We have a modified experience for viewers using ad blockers

Wikia is not accessible if you've made further modifications. Remove the custom ad blocker rule(s) and the page will load as expected.