Town

{{{sign}}}

Name
Kimbactu
Hexacode
KM-KM-01
Population
17,150
Language(s)
English, Phaluhm

Geography

Location
Kimbactu Island
Next to
Husan (Kota Kimbactu)

Trivia
Kimbactu
is a town at the far end of
Phaluhm Phoueck
. It is partially disputed by the Chinese, and is the only open area of Kimbactu island, the rest is closed to visitors without express approval. Kimbactu has about 17,150 inhabitants. It has an military airport, which is currently closed for public flights. Otherwise the only way to get in is by ferry from
Nuevert
.
There are three disputed settlements in Phaluhm, Kimbactu, Isda Endo in Pyetch Island and Kuala Tumpan in the Kuala Tumpan island.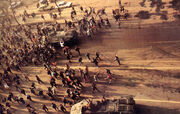 After the Spanish invaded Kimbactu, they founded a settlement at the west of Kimbactu, Kimbactu City in 1601. Kimbactu was a tourist city, until the Qing Dynasty started to invade Greater Phaluhm for oil, spices and cotton revenues. This started the US and UK dispute of the Greater Phaluhm islands.
Kimbactu was annexed by the Chinese as part of the Chinese-Phaluhm war.Phaluhm reported this incident to the UN, as an illegal seizure of land. The US and its allies mounted an assualt to retake the city back. The Kambular dispute ended in 1972, but not the Kimbactu incident. In 1984, Chinese tanks broke the buffer zone and tried to retake the city, but was quickly reclaimed as the army heavily outnumbered the Chinese forces protecting East Kimbactu. Tensions have relaxed over the 21st century but is still tense.
Kimbactu's tourism has declined since the 70s because of the tension between China and Phaluhm. Beaches and hotel resorts have been destroyed and abandoned in 1984, but there are more beaches and hotel resorts under construction. It is known for its costal scenary.
Ad blocker interference detected!
Wikia is a free-to-use site that makes money from advertising. We have a modified experience for viewers using ad blockers

Wikia is not accessible if you've made further modifications. Remove the custom ad blocker rule(s) and the page will load as expected.