Peoples Network Corporation
Name
Peoples Network Corporation
Type
Nationwide TV network
Origin
Westal City
Traded as
PNC
PSX
PNC
Founded
1980 (illegal)

1995 (legal)

Owner(s)
Private
Service area
Nationwide
Peoples Network Corporation or PNC is a television network company based in Westal City and Dauham Sammar Hazaham. PNC started as a pirate TV station as it broadcasted anti-Hamalist propaganda. After the 1995 Phaluhm Revolution, multiple TV companies started setting up and PNC was given its license to broadcast.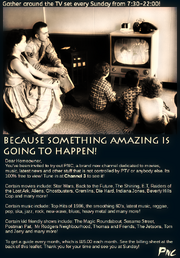 In 1980, a group of university students from the University of Westal City started making their own pirate TV network at unused Channel 3. Every Sunday at 7:00AM to 10:00PM they will broadcast PNC. The shows are mainly movies such as Star Wars and Back to the Future and some anti-Hamalist propaganda and news every four hours.
The channel was not noticed as much until October 1986, when posters was given by secret to random addresses around Phaluhm Phoueck to tune in to Channel 3 every Sunday for the latest movies, TV shows and music. The government in 1987 began tracking down the signals and PNC was now moved from Phaluhm Phoueck to various areas using a ship even going as far as South China. In 1991, the group was arrested and charged of broadcasting interruption and submitting propaganda. The original sentence was a life sentence but several requests made it a death penalty in 1993.
The group was placed in death row at Kota Kambular but a Islamic Front bombing damaged the building. All 40 inmates including the group managed to escape in 1995. Three months later, the PTV building was raided by rioters and demanded the release of the group or more sanctions will take place, including the killing of Khem Hamal. After August 1995, the PNC was given the license to broadcast and was also given a headquarters over Westal City and Dauham Sammar Hazaham.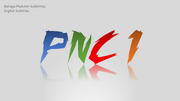 PNC 1 is the first channel of PNC. It is broadcasted from Channel 3, the same one where the Pirate TV network was broadcasted every Sunday. It opened in 1980 illegally and 1995 legally.
PNC 2 is the second channel of PNC. It consists of mainly documentaries and educational content. It opened in 1997.
PNC 3 is the third channel of PNC. It consists of mainly music videos.
PNC Kidz is the fourth channel of PNC. It consists of mainly kids based shows.
Ad blocker interference detected!
Wikia is a free-to-use site that makes money from advertising. We have a modified experience for viewers using ad blockers

Wikia is not accessible if you've made further modifications. Remove the custom ad blocker rule(s) and the page will load as expected.