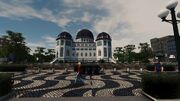 The
Phaluhm Phoueck Grand Mosque
is an Islamic mosque located in Dauham Sammar Hazaham, the capital of Phaluhm Phoueck. The mosque is often considered as one of the most beautiful mosques in the Asia Pacific region. It is a major historical site and a famous tourist attraction of Phaluhm Phoueck due to its gold domes and its seaside location.
It is estimated that $2 billon worth of gold is used to construct the mosque in 1852. It has been threatended by destruction but is protected by UNESCO and IWO Heritage.
The mosque uses a combination of Mughal architecture and Malay architecture and was designed by the British and the sultan on exile. Hamal threatened to destroy the mosque so he could extract gold, but it was put to rest after he was deposed. It has also been threatened to be destroyed after the 1997 Asian Financial Crisis, but was restrained by architectural conservationists.
Ad blocker interference detected!
Wikia is a free-to-use site that makes money from advertising. We have a modified experience for viewers using ad blockers

Wikia is not accessible if you've made further modifications. Remove the custom ad blocker rule(s) and the page will load as expected.